Pattern Crochet Mitered Square
Pattern Crochet Mitered – We are here again bringing another crochet pattern that we love so much. This pattern was suggested by a reader of ours to bring to all of you. We have to leave patterns of various levels of difficulty, the crochet pattern I brought before this one was a wonderful bedspread rich in details and stitches; this pattern today is simple, practical and quick to make, and the best thing is that it can be modified in several ways and changing the final designer. I researched and saw several photos and models of his result and found it really cool to share with you.
I researched and saw several photos and models of his result and found it really cool to share with you. I always look forward to making the articles for you, one of my favorite moments, sitting at my computer table and researching new things, models and especially patterns that have the complete tutorial or even the pdf. I love to distract myself by researching and viewing photos of work.
I spent all afternoon researching and separating patterns and I already warn everyone that there is a lot of beautiful things to bring here. Stay tuned and let's go to today's crochet pattern. There are many patterns that through it we can create others, the crochet pattern that I bring to you is one of those models. You can change as you like because it can be modified, innovated very easily, which I found most interesting, besides being easy and quick to make each block.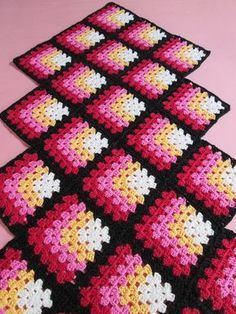 Pattern Crochet Mitered Square
It is always good to innovate because fashion and the world of crochet grow together, in every detail, each piece and each combination and colors of the moment. The crochet bedspread never goes out of style, we always see beautiful things being made, detailed bedspreads, simple bedspreads, in short, of all the models and ways you can make. Today's pattern is a bedspread made of blocks that join a beautiful piece with a designer that looks like 3D, it's called Mitered Square. 
It is made by several blocks that will join until it is the size you want. For those who like a different and modern designer this pattern using various shades leaves in the style of gradient as I left in the photo above as a model, it was in the style of using shades of this color and the result was simply incredible. Use your imagination and play with the colors, not only use one because using more colors, the degrade and the final effect is beautiful.
See too – Mystical Lanterns Crochet Blanket
You will be delighted to make this pattern, I already did it last year and I really enjoyed my experience, it is very charming and it took me 1 week to finish my quilt. An excellent option to give as a gift and also to have in your store as you can make different colors and tones or even change the directions of the square thus totally changing the pattern and creating a different model, take advantage of the tip.
If you like crochet bedspreads just like me, then you can't miss this pattern and make your room cozy and love the result made by you. Below I leave the link in the name of the pattern with the written step by step of how each part and each point is made, and all the necessary materials.
Pattern

available
I also left a video tutorial soon to better understand. Enjoy, I hope you like it and do beautiful work, good work to all, have fun and until next time, I love having you here. Follow our facebook page and see what's new on the site Fanpage  and group.
Pattern Written – Crochet Mitered Square