Tiramisu Baby Blanket Crochet
Hello friends, how good it is to see you here on our website, I received more and more comments praising our website and the patterns you find here. I also like to say that all of you are able to create amazing patterns through the patterns and tips on our website. I love every comment you leave, this is to make any writer happy is not. I always have patterns on my computer that I look for and find on the internet and see if it is good and useful to practice and what works I bring it here to share with you and it is worth remembering that I only leave free patterns available.
I like to offer it for free, because I know that not all people who make crafts can buy the patterns. The world of crochet is immense and there are thousands of patterns that do not even make us sick or new, because there are always new patterns appearing and new ways to make the stitches and patterns with each passing day. Thank you to all of you who are practicing too and making this world of crafts and market grow ever. We are a family, growth is due to ourselves.
Baby blankets are always welcome, please everyone and are very talked-about. people that crochet both as a hobby and available, are always searching for blankets and customers also wish to buy to relinquish to their children or be a present option for somebody else. There are pieces and things that you just cannot miss in your store if you're employed in sales, one among them may be a baby blanket made and crocheted. My niece was born and her first dress was crochet made by me, it absolutely was very graceful and extremely delicate.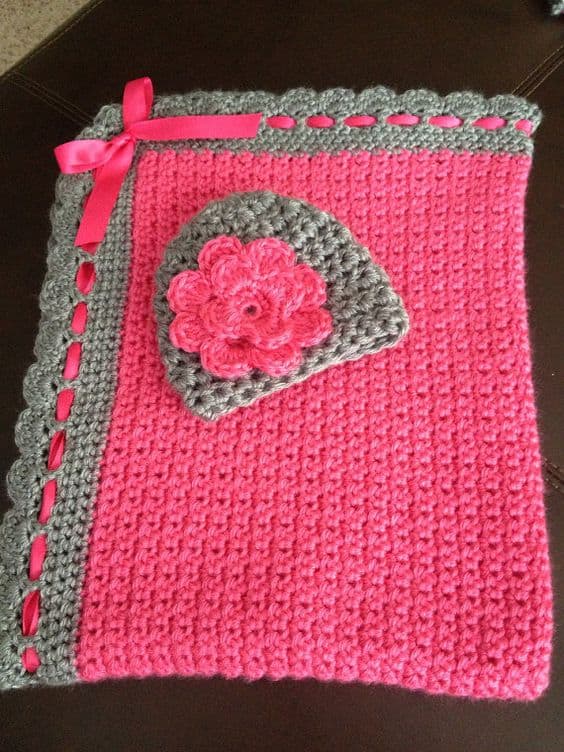 If you want a special gift for someone and don't know what to give and are looking for, look no further, here is a beautiful option. Take advantage of this beautiful and delicate pattern to do a beautiful job and to increase your crochet skills and reach the next level with this pattern and there are also other beautiful ones that we have available here for everyone. I am sure that here you will find the perfect designs for you and I am sure you will love it just like me!
Size- 32 inches X 32 inches
Abbreviations
Ch = chain;
Sc =single crochet;
Dc = double crochet;
Sl st = slip stitch;
Sk = skip;
Rd = round
To decorate the piece you can put ribbons or even make crochet flowers or any other design and ask for more details. Use darker tapes to give a harmonic finish. If you are more advanced and can do crochet ruffles, you can also do it, it is a great option and makes it look even more beautiful, just like I left inspiration in the photo. This is a type of blanket that anyone would like to offer, very beautiful and delicate.
Below you will find the pattern link with step by step and all the necessary information to make this beautiful crochet blanket for babies. We leave it in PDF format so that you can also print it and take it with you wherever you want if you prefer than on your cell phone or computer. Take advantage of this crochet pattern tip and make beautiful blankets for sale at your store or for your family. I hope you like it and good job to everyone. Don't forget to always visit our website because every week we have new patterns available here for free.
                                              Free PDF Pattern ☞ Tiramisu Baby Blanket ❤