2 Christmas Tree pattern in Grandma's Square
Hello friends… welcome to our website where we have several crochet and quilt patterns for all those who love crafts. It's been a few months since I've done materials around here, but today I decided to bring a very cool and simple pattern. And today is a pattern for a very special commemorative date that many love, which are the crochet Christmas trees, they are beautiful, incredible and not difficult to make, beginner level.
Christmas is a special date celebrated by everyone, having a great meaning. I love Christmas as we gather our family for 2 days and see people who live far away, conversations, laughter and all the best that makes our hearts warm. In addition to all the dinner preparation, decorations and gifts. Also, I love making my own decorations to make it more special.
A friend gave me an idea last week, to come here on the blog and share with you where I found my Christmas tree decoration inspiration. Today I woke up and soon I organized myself to write here for you, I also took the opportunity to see the comments that I always receive from you, thank you for the affection, praise and for accompanying me here. Okay, so let's go to the pattern below.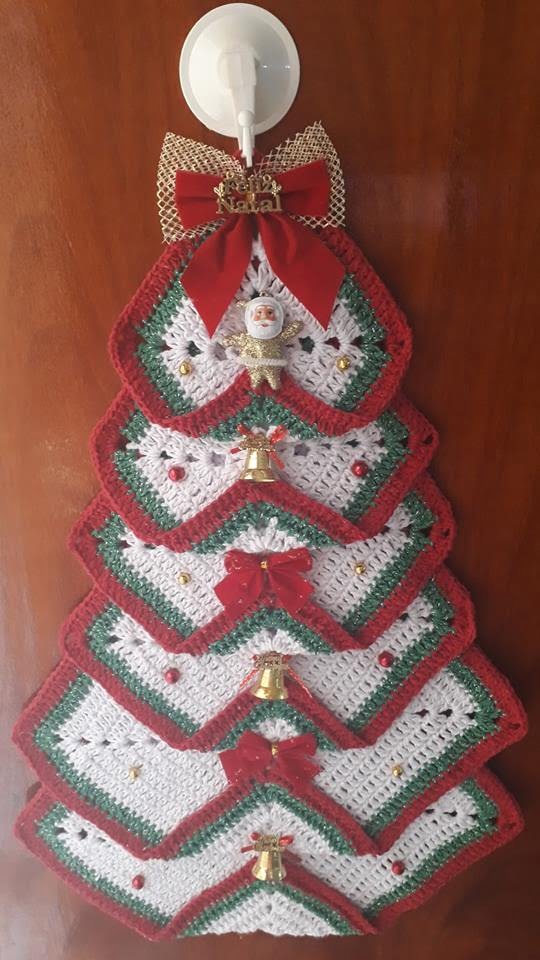 Christmas tree at Grandma's Square
At this time of Christmas, we found many Christmas things, many patterns of different ways to make and use them. And of course I was going to bring something easy here for all my readers, pieces that I learned and make for my Christmas decorations. I love a well decorated house, even more with pieces I made myself, or even give as a gift to someone dear.
You can use this pattern today to decorate the doors of each room and the entrance, decorate the chairs leaving them hanging, the refrigerator door, the fireplace, the stairs, place on the Christmas tree in the living room and even attach to the Christmas sofa blankets. if there is. You can also gift your relatives to use at home and for years to come, it's nice to have a gift made by yourself.
See too – Mystical Lanterns Crochet Blanket
Crochet pieces, make the environment more cozy and more original, even more in commemorative dates. If it's a gift, it's a way for the person to remember you or even be something that can be passed on from generation to generation. The pattern I bring to you today is a Christmas tree that you can use for various things, used alone or sewn into other things, such as decorating a blanket or curtain. You can put it on the fireplace, doors, windows, on the supper table, in short, use your imagination.
Benefits of Crochet
One of the benefits of crochet is helping with imagination and helping with memory and motor coordination. In addition to the personal health benefits, you can also make pieces for your own decoration and use, and also crochet pieces are great for having an extra income from the sales of your pieces.
The Christmas tree crochet pattern, simple and easy to make, is made using the granny square of the beginner level Granny Square pattern. A great pattern for anyone starting in the crochet world. Through this piece you will make this beautiful Christmas tree, just joined one square to the other as shown in the photo and video below. Being able to change the size of the squares as you prefer, just making more or less lines in the square.
You can also change the size of the tree, decreasing the number of squares you will use or increasing it. Always remember that to become like a tree, you must make it from the smallest to the biggest. Choose some ornaments to put on your tree and do as you prefer. Don't forget to make the trunk to stay at the base to finish your work. Well, I hope you enjoyed this pattern tip and make beautiful pieces. Below you will find 2 types of square, one in the graphic and one in the video tutorial. Follow our facebook page and see what's new on the site Fanpage and group.
2 Patterns available