Shell-Shaped Table Center Crochet
Shell-Shaped Table Center Crochet – Hello my readers, how are your work? Looking for something cool to do, or more tips to practice… As I said in the previous post, I left the site for a few months for personal reasons and lack of time organization, but I'm back. I'll always leave beautiful patterns here for everyone, and of course if you have any pattern requests just leave a comment that I'm looking for and leave here completely free as always. Here we are a family and help each other, I bring everything free, graphics, step by step and tutorial videos.
Lots of beautiful things, from the easiest to the most difficult, the smallest to the most complex and the biggest piece. I love when they share my posts on facebook or website link to friends, it helps me a lot to grow and gives me more encouragement to be here for you. I always receive good comments from readers who encourage me a lot, thank you for each affection I get from you and I want it to be always like that. Don't forget to save the site as favorites, so it's easier to access and not miss anything new around here.
Today's tutorial is really beautiful and fun to make, I think you'll like it. So let's go. The pattern I bring to everyone today is a very beautiful and fun pattern to make because of its 3D and wave design, it's the table path pattern, it's very well known on the internet because it's fun to make and we can make various combinations . It looks great on the table with a different designer and it is also very easy to make and can be used in many places.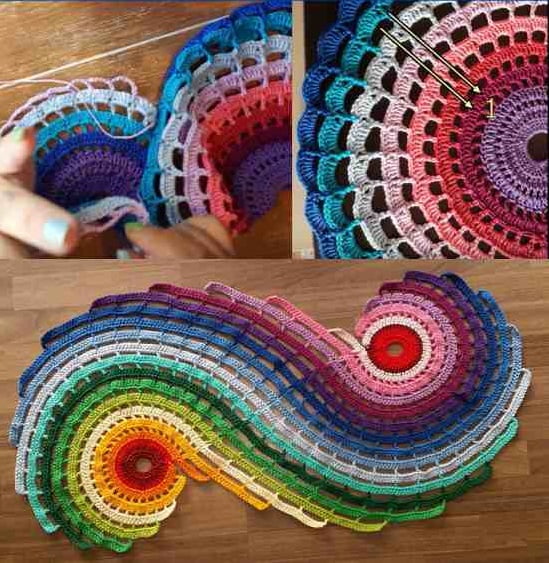 Pattern Shell-Shaped Table Center Crochet
You can use it as table runners but you can use it as a bathroom rug, a kitchen rug or a bedroom rug, it looks great on everyone. I have a rug like this in white and pink and I loved it, I was in love with its result and with this experience. As this pattern follows with the same stitches, it is easier and faster to finish. In 3 days you can finish this pattern, being good to make more of these for those who want to sell and earn extra money.
You can make many color combinations, more neutral or more colorful as in the photo above that I left as a model for inspiration. In this pattern, you can do all levels of craft, being a beginner or intermediate, you will love to do this work and it will be successful because this piece is amazing. I'm thinking of making one for Christmas, in white, red and green, because I'm in love.
See too – Charlotte's Dream Pattern
For all who sell their crochet pieces, don't be left out because this pattern draws attention and delights everyone, make neutral and colorful colors to have for all tastes and for each type of person. It's a nice gift idea too. To make different or more original ones, you can crochet flowers and place them in the middle, or at each end of your piece, it looks beautiful and more delicate. Remembering that this idea is nicer for tablecloths for being delicate.
Grafic and Video Tutorial
Below I leave the graph I found to give you an idea of ​​how the combinations of points will be done and I also leave the video tutorial with all the information and the step by step done in the video, so it's easy to go back and watch again if you have any doubts, enjoy . Good job everyone and until the next pattern, don't miss it because I want to bring you Christmas news. Follow our facebook page and see what's new on the site Fanpage and group.