Crochet Pattern Virus Blanket
Crochet Pattern Virus – Hello girls, how are you? How was everyone's weekend? My weekend was quiet on mother's day with my mother, grandmother and family. How good it is to have our relatives well, healthy and united, the best thing we have in life after material things. I did well and now returning to the work routine and here on the site with all my readers, if it's your first time around here be very welcome, I hope you like our site because here everything is done with care, we have many patterns and all free with graphic, video and tips.
At least 2 times a week I'm here updating the site with news from the world of crochet and quilt that we all love. Crochet pattern virus Feel free to search for the patterns you like and enjoy everything free and that makes me happy to help people and several told me that they spent hours on the internet looking for and found the pattern here, it motivates me a lot. I hope to be useful for you too, here you have many options.
I have to research that you will love and also increase your knowledge by learning new things and practicing a lot to raise your level and skill in crochet. Everything is a matter of practice. The pattern I bring here today on our website, is a very beautiful pattern with a different design. It's very well known, it's called Ponto Vírus, this stitch is widely practiced by artisans and on the internet there are many photos of works using these stitches, so don't miss this one, learn today and make several beautiful pieces.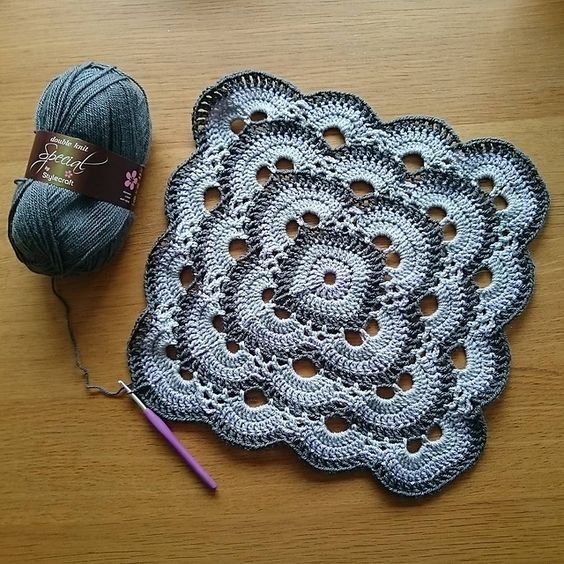 Crochet Pattern Virus Blanket
This Virus pattern is easy and has a beautiful result, as in the photo above that I left is the result of it and I fell in love. This pattern looks like an open fan with details, it looks really cool when you pattern with it. This pattern can be used in a beautiful blanket, blanket for armchair or sofa, use in shawls, gloves, even in blouses it is elegant and different blouses with this stitch. As it is a malleable point to use in many things, to create many incredible pieces, use your imagination.
This virus point has been practiced for many years, searching the internet I saw many pictures of works done using this point and one is more beautiful than the other difficult to make a piece just with it. For those who sell the pieces it is interesting to make several different pieces with this point and also with different colors for customers to have more options to choose and buy.
See too – Elements Cal Crochet
We can choose many light or dark colors that look beautiful in the piece, it goes according to your decoration or your taste in the piece to use. Before you start, choose the piece you are going to make to choose the color you are going to use. Being able to make combinations of colors, tones or make a single color, whatever you choose will be good, believe me, do it matching your decor if it is something for the home.
I've seen pictures of glasses covers and pillow covers that used this stitch and it looked beautiful as well as tablecloths and bar cloth. We can invent many things or innovate pieces that we already have in the wardrobe to change the look of the pieces and look new.
Sometimes they have a piece that is already old and unused that they can innovate and it looks amazing and new again. Below I leave a graphic and a video tutorial of the point virus to do this beautiful work. Thank you for visiting and make beautiful projects, up to the next pattern. Follow our facebook page and see what's new on the site Fanpage  and group.
Pattern available