Fold'n Stitch Wreath – Hello friends, how long I haven't been here is it, I was a little missing because of other personal things and with this pandemic, many things happening, but the important thing is that everything is fine with me and my family, I hope that yours too home, your family is all right. I received a lot of comments here on the compliment site, about our materials, our site and also asking for new patterns, new tips, when I would post more.
In one week there were more than 100 comments, thank you all.  I am very happy with this and I promise that I will come back with everything and every week I will be posting new patterns here for you, I will research many cool things and bring everything here for free.  I am happy when you tell me that you got patterns that you wanted so much here, they found it here and it makes me happy and gives me the most joy to do it.
Save our site in the favorites that will have a lot of beautiful things, so come on, today I bring a beautiful pattern for quilters. Today the pattern will be quilt, a beautiful handicraft made from sewing, being able to take advantage of fabrics that you have at home, or buy one of your favorite color and also a smooth or textured one that looks beautiful too.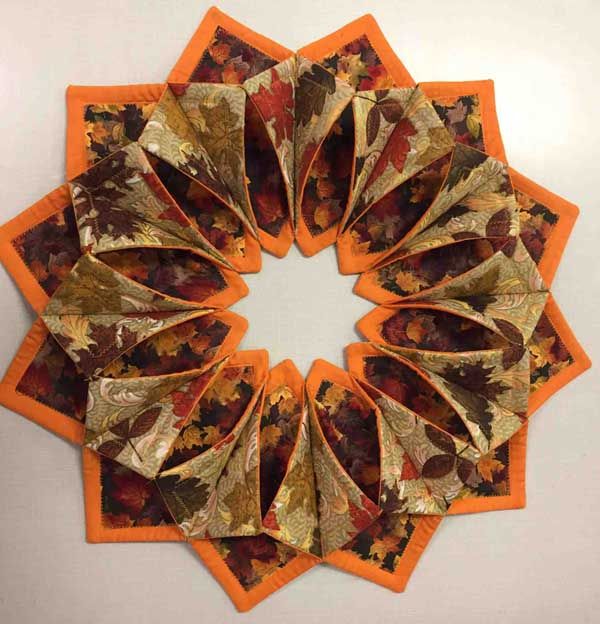 Fold'n Stitch Wreath
The name of today's pattern is Fold'n Stitch Wreath, created by Poorhouse Quilt, quick and easy to do, it is a very useful, beautiful and fun pattern to make because of its origami-like folds. It may seem difficult looking at the final result, but it is an easy pattern to make, being an opportunity for beginners to make this beautiful pattern.
It is widely used as a centerpiece ornament, as a door or wall ornament and that can be used at Christmas time, making those beautiful garlands that you use on doors or on the tree. You can also use it at Easter time as a centerpiece and decorate with an egg in the middle, my friend has already made it and it was really beautiful, she played with her daughter to hunt the eggs and she loved it, a great tip for everyone.
Pattern Tips
As shown in the photo above, you can make normal without any ornaments, but if you want you can do something more original, like putting a ribbon, a bow, beads or something to decorate as you prefer. Choose the color of the fabric to match your decor or strong colors for Christmas looks beautiful. At the end of the post I will leave a picture of the crown with a ribbon to see how it looks.
The pattern is basically made of squares of sewn fabrics, so it doesn't have to be of the advanced level to make it perfectly. Even more making our own Christmas decoration is a very satisfying thing, good for us. Pack everything to receive family members on this special date. I like to choose the colors of the fabrics with strong colors and also if it is something for babies, I like to make light and light colors.
I've seen this pattern with various types and colors of fabrics, warm, cold, light colors and even fabrics decorated as children with animals or also with flower fabrics and leaves made of fabric behind to decorate. As I always say, imagination counts a lot when it comes to producing something.
I leave the tutorial video of the pattern below, enjoy every detail and come back to the video to watch more times and answer questions. Good job for everyone and until the next pattern. Don't forget to like our facebook page Quilt for All and stay on top of all the news, we are posting patterns and tips every day. Thank you for caring, if you liked our site, save it to your favorites and tell your friends, share, this is very important to me.
Video Tutorial Fold'n Stitch Wreath