Atlanticus CAL Crochet – Welcome to our site, everyone who is always looking for help to make standards, many complain about leaving the standard here, but I prefer because it helps thousands of people. Every time I receive a thank-you message and managed to do it through our website. I'm happy because it makes me happy, helping people who can not always be buying materials and finding what they are looking for to have more skill in the world of craftsmanship that is wonderful and It enchants to all.
Here every day you learn more, brings news, tips, step-by-step and videos tutorials. Pattern from the simplest and easiest to the most complex and difficult, from beginners to advanced level. Very elegant, delicate, beautiful pattern, complete with everything you need to do a beautiful job and practice at home in your comfort in the best way.
The craft gives us a peace and leaves us calm … not a great pastime. The bedspreads made from crochet are very beautiful and original, to make it take a while to finish due to the size you want and because it is a double bed quilt it is big so having to make more stitches and taking longer, the final result is worth the work it's time.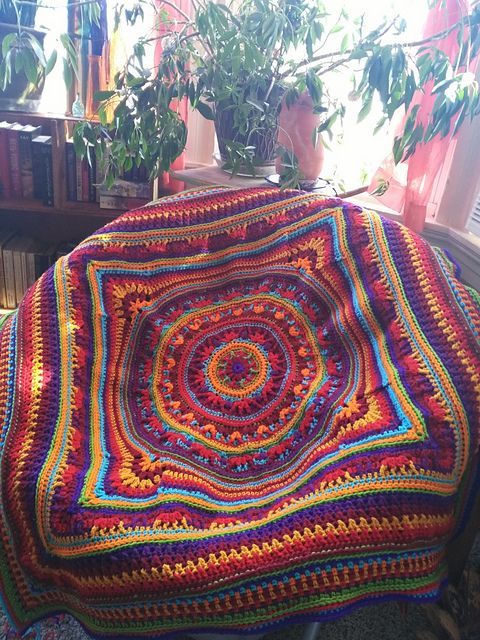 About Atlanticus CAL Crochet
We can make this wonderful pattern today called Atlanticus CAL a wonderful bedspread or even leave it as a blanket for your sofa, because in winter we always want to keep warm and be with our warm blankets and crochet beds are like that, in addition to making the more beautiful environment, makes us warm, comfortable and bring style to your decor of your environment.
Crochet Information
Wire Weight – DK (11 wpi)
Hook Size – 4.0 mm (G)
Yard – 4046 – 4374 yards (3700 – 4000 m)
Crochet Terminology – USA
Measures: 145cm x 145cm
Materials
Double knit (DK) cotton or acrylic yarn – I used Nurturing Fibres Eco cotton
50 grams – 125m
4mm crochet hook
Needle for sewing in ends
Yarn Colours and Quantities
The tutorials for this pattern are done in Colourway 1. Colours will be listed on each Round as Colour A, B, C, etc.
Colourway 1
A – Vanilla – Approx. 100g/250m
B – Watershed – Approx. 150g/375m
C – Cornflower – Approx. 300g/750m
D – Ocean – Approx. 200g/500m
E – Denim – Approx. 200g/500m
F – Aqua – Approx. 250g/625m
G – Aventurine – Approx. 250g/625m
H – Mint – Approx. 150g/375m
Colourway 2
A – Vanilla – Approx. 100g/250m
B – Anvil – Approx. 150g/375m
C – Cornflower – Approx. 300g/750m
D – Charcoal – Approx. 200g/500m
E – Ocean – Approx. 200g/500m
F – Bessie – Approx. 250g/625m
G – Willow – Approx. 250g/625m
H – Pear– Approx. 150g/375m
See too – Mystical Lanterns Crochet Blanket
This pattern is simply beautiful and very bold because of its designer! Never doubt your skills to do a project like this, you can define CAL Atlanticus! So let's animate by choosing the colors you will use in your project, colors to match or your favorite color. Leave here the colors that were used in this pattern but you can choose the colors you prefer and create an impressive and original art!
This handmade pattern is just wonderful, I leave the pattern link because it is too long to write it here for you, so I prefer to leave the link and you can even print it out if you prefer, enjoy the complete step by step. Crochet is the craft that you can make several patterns with different pieces for you or even products to sell and have extra money.
I hope you like it and have a good job for everyone, every week has news for you, so save this site as a favorite in your favorites bar on your computer or cell phone and up to the next pattern. Kisses. Follow our facebook page and see what's new on the site Fanpage  and group.
Pattern Ravelry – Atlanticus CAL by Hooked on Sunshine