Pattern Afghan Snowflake – Crochet bedspreads are very common in craftsmanship, surely make you think of a more custom style of bedspread for your bedroom or blanket for your sofa. Your grandmother would be very proud to know that you are learning and improving more and more in this wonderful world, increasing your skills and increasing, increasing and hours pass!
The crochet never goes out of fashion and the quilts always accompany, because the craft always follows the trends with new combinations and points. Today's post is a very pretty crochet quilt and reminds of snowflakes, which may be the color you prefer and find that it looks more beautiful and modern in combination with the decoration or even for those who want to gift remembering the winter.
This pattern is not too difficult to do, it does all hexadecimal and then joins each one, giving the desired size to the quilt. What will determine the size is the amount of hexagons sewn together. To find out how you continue reading and good work. Today's pattern is a beautiful blanket of snowflakes as you can see in the photo that I left above for inspiration. These patterns are one of the things that make me most happy because they have a beautiful and fun design to make as they form the design and are also made of hexagons.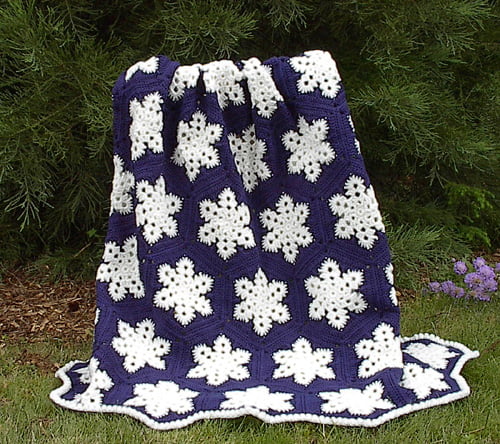 Pattern Afghan Snowflake
Each flakes made is a hexagonal and joining each one increases and forms our bedspread. You can use this pattern to make bed covers, blankets for your sofa or armchairs, rugs, pillow covers and even other pieces that you want to innovate or renew.
I've seen only flakes be used as an ornament in the winter season and also used as an ornament on the Christmas tree. Using your imagination you can create and innovate many things, be creative and everything becomes more fun.
This pattern is of an intermediate level of difficulty, but as I always say whenever there is determination, desire and patience, people who are starting to do it at the beginner level can make an intermediate pattern too. Always try to practice from the simplest to the most complex so that you have more skills and more motor coordination.
Materials
32 oz. dark
28 oz. light worsted-weight yarn
G hook (4.25 mm)
Stitches: U.S. terminology
ch = chain
sc = single crochet
dc = double crochet
trc = triple crochet
hdc = half double crochet
sl = slip
st(s) = stitch(es)
sp(s) = space(es)
rnd = round
beg = beginning
You can choose the colors you prefer, you don't have to follow the white and blue pattern, you can use other colors and have fun in the production. Be free, think about what you want to do, choose the colors and separate all your materials to start your project.
Pattern Available
Below I leave for all the link with the written step by step of the pattern, remembering that I left the abbreviations to understand and help, but there is also the link that I left for you. You have written every part of the pattern. I also leave it to better understand and for those who prefer in video form 2 tutorial videos of how to also do step by step all explained and being produced each process together with you.
I hope you like it as well as I am delighted with the result. Very good for our cold season. Save our site as a favorite because every week we have patterns available completely free of charge, providing the best and what is in fashion to always be updated. Good job for everyone, kisses and until the next pattern. Then comment on your results, I love to read and follow. Follow our facebook page and see what's new on the site Fanpage  and group.
Pattern Written Free ☛ Afghan Snowflake