Curve it Up Log Cabin – Hello, be very welcome on my website as I always say, I even received a comment these days that it was titled already got used to the beginning of my post (laughs). I really love this interaction, speaking of which I am very happy, very much with the comments that I come to receive. I stayed this year without touching the site and when I opened today I saw that there were more than 60 comments.
I just have to thank each one because it motivates me a lot, knowing that they are enjoying the site, that it is being useful and even some people they said they were looking for a lot of patterns that they managed to find here, and that they also saw people indicated on the site. I was really happy. Last year there were a lot of things that I had stopped writing for a while and brought content here for everyone, but for personal reasons nothing can be done on the internet.
But I want to come back with everything and help many people with free content and receiving these messages of praise and who are finding what I was looking for, these messages motivate me too much. Thank you for each one that wrote, I wish you all the best. So let's start the year with everything, with new patterns available here, start the year with all the energy and dedication. Come on.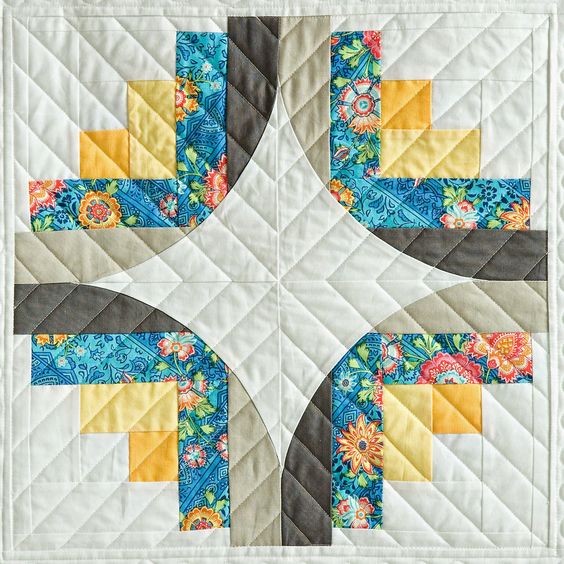 Pattern Curve it Up Log Cabin
So today we are going to learn a little more about this beautiful world of craftsmanship, right? In this post, as you may have noticed, we are going to make a patchwork pattern, works made with fabrics. The pattern is known as Curve it Up Log Cabin, are small fabrics sewn into blocks, which can then be used as you wish. 
Some examples of what you can do with this job is a beautiful single or double bedspread, what changes is just the amount of blocks you will use, you can also do rugs, table cloths, pot holders, sofa blankets, in short, whatever your imagination says, we can do several things. 
It is very fun to make, also because it is made with pieces of small fabrics, it is more work and takes little time depending on what you are going to do. But the end result always pays off, isn't it? Make this one tell me in the comments what you think.
For those who are starting, it is always good to start with a pattern of blocks that they will do and repeat several times, thus taking practice and also improving motor coordination, it also improves memory because the same sequence of the construction of the block construction is repeated several times . Great patter, which must be done with a lot of attention and dedication.
Creating the Pattern
So come on, separate the fabrics you are going to use, already knowing what you want to do. Wash and iron them all and then start cutting in the formats, below I leave a link where you have all the step by step written and also the sizes. You can follow everything exactly that will work, check if your scissors are very sharp, sharpened, as it can damage the fabric if it doesn't have one. Always have your materials in excellent quality, as this will interfere a lot in the result of your work, so scissors and stencils always in good quality.
Follow the step-by-step instructions, but you can also modify how you think it will look best for you and your pattern. This project is great for those who do work to sell, many people look for it and I have also seen this pattern in exhibitions, it enchants everyone with its designer.
See too – Spinning Star Table Quilting
Choose the color that suits you best, or mix colors, or mix colors, it looks really beautiful. I hope you like it, I left below the link also, a video tutorial to learn even more in the practice of how to do it. Leave your comment later, it motivated me a lot to research more and more for everyone. Indicate this post to other friends too, it helps to grow our site and save the site to see our news every week. Follow our facebook page and see what's new on the site Fanpage. Kisses.