Elements Cal Crochet Square
Elements Cal crochet – Hello friends, it's been a while since I came here to write to you. The last time I brought a pattern was in June, I apologize for my absence, I was solving several problems and the days go by so quickly, isn't it? He spent these last few months flying, time is actually passing too fast, that's why we have to make the most of our life as possible because we don't know what tomorrow is. So live life, don't be afraid to try, start over and try new things in life and also here in the crafts that we love so much.
It's always good to learn more and acquire more knowledge, so I'm back every week bringing new patterns and lots of cool stuff. Today's pattern is a pattern a follower had asked me to bring because she wanted to learn. And nothing better than posting here again for you already bringing a request with affection. Crochet is always evolving according to the trends, but the old, previous patterns will never stop being practiced. Because it is important to know from the basics, to the simplest and most exotic pieces of fashion, faster pieces, small pieces to bigger and more difficult pieces or longer to finish.
But the good thing is to always innovate and always try something different, to have experience in everything you can, so your skill improves too. Many times who encourages us to practice this craft like others, are our mothers or grandmothers, the encouragement of the family helps a lot, not only in hobby but in life. My great-grandmother encouraged me to start, I started doing cross stitch and then crochet, today my niece started to try crochet willingly, because she saw it and thought it was cool, and she is learning the basics.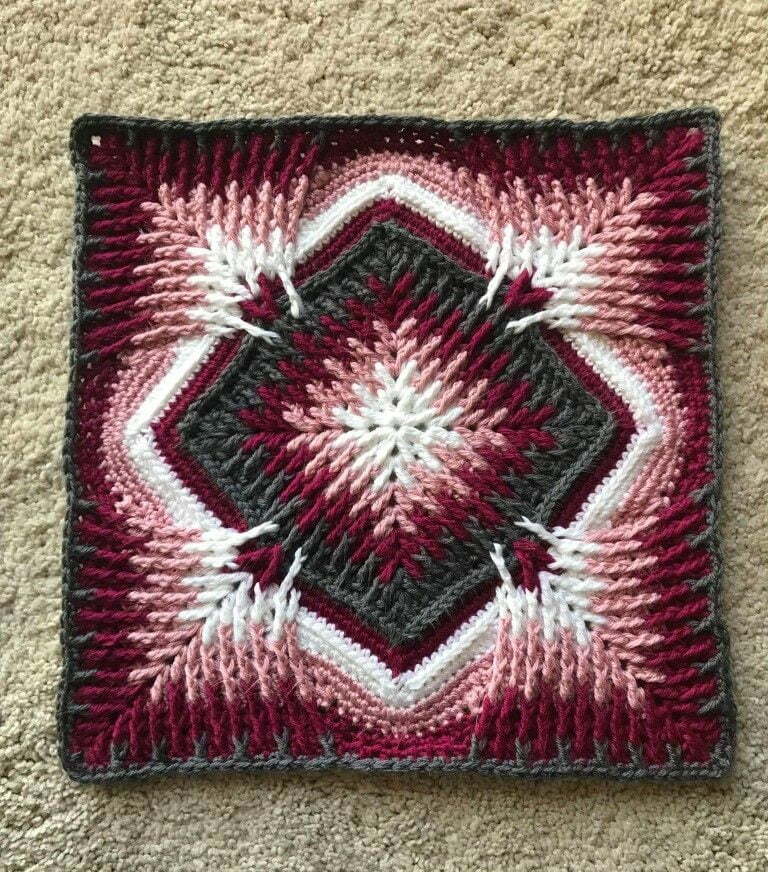 Let's Learn
How are your trainings going during this time I was away? I always say that practice always makes us more skillful and improves our knowledge. During these months I was away, I received many comments from new people here, praising and saying that they found and learned many new things here on our website, and we had many visits and referrals from our website. You who are new here, are very welcome.
Pattern Elements Cal Crochet Square
Today's pattern, in response to requests from a loyal reader of our site, is a square pattern. It's always good to learn pieces of squares to build your piece, so you'll have more practice doing the same thing several times. The first square pattern I made was grandma's square, it's good for beginners. After that, we make more types of squares and more practical points until it gets better. If you're at the beginner level, don't be afraid, do it little by little without rushing what you'll get, everything with dedication is right.
See too – Mystical Lanterns Crochet Blanket
The square crochet pattern is called "Elements CAL". It's a pattern that when I met was love at first sight, for every detail and this 3D aspect that it has, it's very creative and fun to make. With this pattern we can make many things, rugs, pillow covers, blankets, sofa blanket, table mat, you can use the square as an ornament for something too, however you want to use it and find it beautiful.
You can make various color combinations or use those mixed yarns that look beautiful. Do as you prefer and according to the purpose of the piece. The result is perfect, take advantage of the fact that Christmas is coming and do it as a gift to someone.
Video Tutorial
Below I left the video tutorial I found, with all the information and step-by-step instructions to do with the video and have no doubts. Enjoy every minute and come back to watch it again as many times as necessary. Good job and make beautiful pieces, until the next pattern. Follow our facebook page and see what's new on the site Fanpage  and group.