Pattern Giant Dahlia Quilt
Pattern Giant Dahlia Quilt – Hello my reader friends, welcome to another post here on our website, as I said I separated many beautiful patterns for everyone and I am posting here little by little. Giant Dahlia – Today I posted three patterns one after the other because I was a little late here with you but everything is in order now, there will always be weekly patterns available for crochet and patchwork / quilt. Today, for example, we are going to use a quilt pattern, a pattern made with sewn fabrics that at the end of a beautiful job is not even.
Patchwork has been practiced for years too, and like crochet, it is always innovating and countless different patterns of models and pieces are created, ways of making and combinations. We are going to make a beautiful fabric quilt pattern called Giant Dahlia, this pattern is among the most well-known quilt patterns, which has already been a prize for major competitions. That's why I come to bring everyone the opportunity to do, practice. So come on.
The "The Giant Dahlia" pattern, as I already said for all, is one of the most incredible and most appreciated patterns in the bedspread category, besides it is one of those that won many awards for its beauty and is really charming for those who see it. This pattern is made by Hubert See Mehren, from Des Moines, Iowa.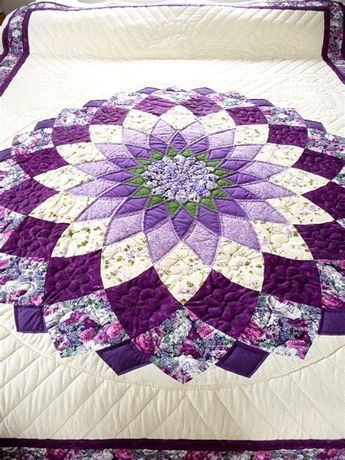 Pattern Giant Dahlia Quilt
This pattern has a very charming, beautiful and attractive design, from intermediate to advanced level. It is not a beginner level of craftsmanship, but it is not difficult to do, just have a lot of attention in the assembly of the fabrics and in the measurements that come out all beautiful. As I always say, everything done with persistence and dedication is all right and you can do anything you want.
This pattern has a very creative and modern design, as if it were several leaves forming a flower, thus being the center of the bedspread. Each sheet fits perfectly and is incredible, giving a more pleasant environment and being able to match your decor. Pattern with several pieces must be very careful when assembling and sewing more is very fun and good for our skill and memory. It takes a while to finish the quilt but as you can see in the photos the result is incredible like the name.
See too – Spinning Star Table Quilting
Pattern Tips
First of all it is necessary to buy good quality fabrics, you must wash and iron before using in your work because there are fabrics that can decrease their size and also passing the fabrics before sewing improves the final result, making the sewing more beautiful and uniform, Of course, if possible, use a sewing machine so that your sewing is more standardized in your piece.
So choose your quality fabrics and choose the colors you will use in your combinations, I left two photos as an example for the variations, have fun doing it, this is incredible. See in the environment what colors of your decorations cushions, poufs, armchairs in short, try to make combinations to be more in harmony with your bedroom or living room.
Making a quilt like this is a clear work of art, and still being done by yourself is very rewarding and satisfying. I see many artisans doing their jobs and I always praise, this is very important, praising someone for their work makes them happier and more confident in their work, giving them the courage to always do more.
Pattern Available
So here on our website we always provide free patterns, to always see people who were looking for the pattern to find here and not be charged for it but rather be available for all written pattern or pdf. If you liked it, use the pattern available below with the necessary information and you will also find the measures and shapes in it. Good work to all and a great weekend. Follow our facebook page and see what's new on the site Fanpage.
Pattern Written – Giant Dahlia Quilt