Hypnotic Tiles Afghan – Welcome to our website, all our readers and new readers, are very welcome. Here on our website we have many crochet and quilt patterns, our readers are varied so we bring both subjects to all lovers of crafts. I hope you like it and always come back here to read our post and learn more every day, always with free patterns written or PDF, tips and tutorial videos. Every week we bring news here, to update and always have new things to learn and practice.
As I always say here, for those who are old readers you know, I always advise you to practice new things, always finish a pattern and try another one with a different stitch, and even try sometimes to make a higher level pattern than you are, to increase coordination morota and also learn new practices and ways of doing, thus also stimulating creativity in innovating. Well, let's go to today's pattern that we're looking forward to, isn't it. Today it is a crochet pattern, for those who practice crochet, enjoy it.
As I said above, today's pattern is the wonderful Hypnotic Tiles Afghan pattern made from crochet. I left it in the photo above, as it is the result of the square of the pattern, it has a 3D effect, formed with layers. It is really beautiful, when I saw it I fell in love with its result and brought it to you too. This pattern is of intermediate level, but you can do it with dedication you will be able to achieve even if you are not at that level.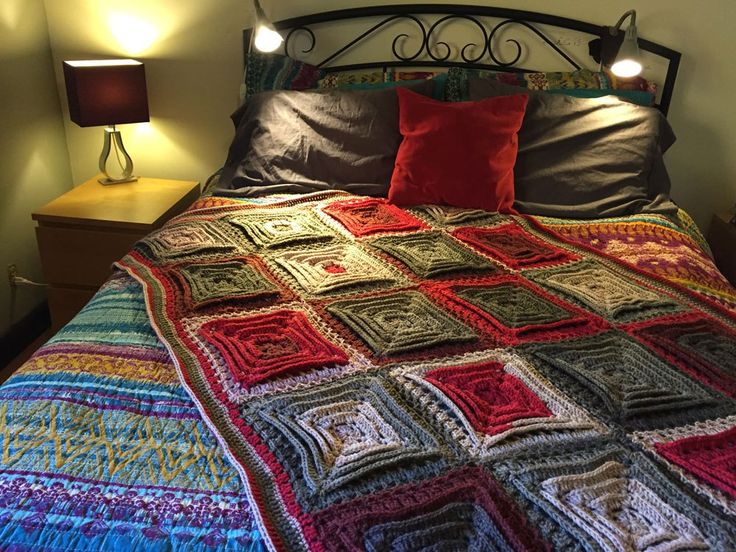 Hypnotic Tiles Afghan
Searching the internet for the best pattern and more information to be complete here for you, I found several color variations and combinations to make this pattern. Warm colors with red and black as I left it, also with cheerful colors in yellow and also for children with light colors mixed in white. Choose a color that you prefer, or if you make a blanket to give as a gift, choose the color that the person prefers, so you will be more enchanted by the gift.
Materials
Gauge – 13 stitches and 10 rows = 10 cm
Hook Size – 6.0 mm
Yardage – 1800-2100 yards
Project Size – 46" x 60"
As said, it is not a difficult pattern, it is more for intermediate crochet but it can be done by people of other levels as well, all according to the dedication, coordination and time to practice and make. It can reach about 118 cm by 152.4 cm. This of course, depending on the size you want to make, and what you want to do, a blanket or blanket or whatever you prefer, increasing or decreasing the squares. Making a blanket with an average of 20 squares that are joined with a crochet border around.
If you liked this pattern don't waste time, do it right now. Buy your materials, choose your yarns and see if your needles are quality and start right now. I found a pattern in the form of PDF to be able to print and take it anywhere and make your pattern outside the home. I also left a video tutorial that I found very complete and you can come back as many times as you want to watch again. 
I hope you like this pattern that we brought to everyone today and are always welcome on our website, we have news every week with incredible free patterns. Make beautiful works and leave comments on what you think, I love reading everyone's comments. Success and until the next pattern, follow our facebook page and see what's new on the site Fanpage  and group.
Pattern PDF Free – Hypnotic Tiles Afghan
The Crochet Crowd
Read too – Sophie Loves Lilla Bjorn Blanket