Poncho Granny Pattern – Crochet is a type of handicraft made with our hands so perfect that with it, each stitch made, we can make many different pieces through a different stitch we will make new patterns. Our imagination is one of the main pieces to make beautiful original works, it counts a lot when creating because we can use the stitches in different ways and create different pieces just for making this change in patterns, it's incredible, isn't it .. do something that you want to do and imagine how it will be.
Today, here in this post we will learn another free pattern so that we can update and have more skills. A work made with a single stitch or more than two forms beautiful works and ways that make all the difference, whether in decoration or even in clothes, and can be used in blouses, dresses, jackets that look beautiful for your days. Crochet can be used in simple pieces and even in modern and cute pieces for children.
Today's stitch, for example, can be produced with several parts from different stitches, all according to your creativity. In the case of this post, we will make a poncho from Grandma's tip that is incredible. To choose the colors of a job, you need to think about what you are going to do in a part.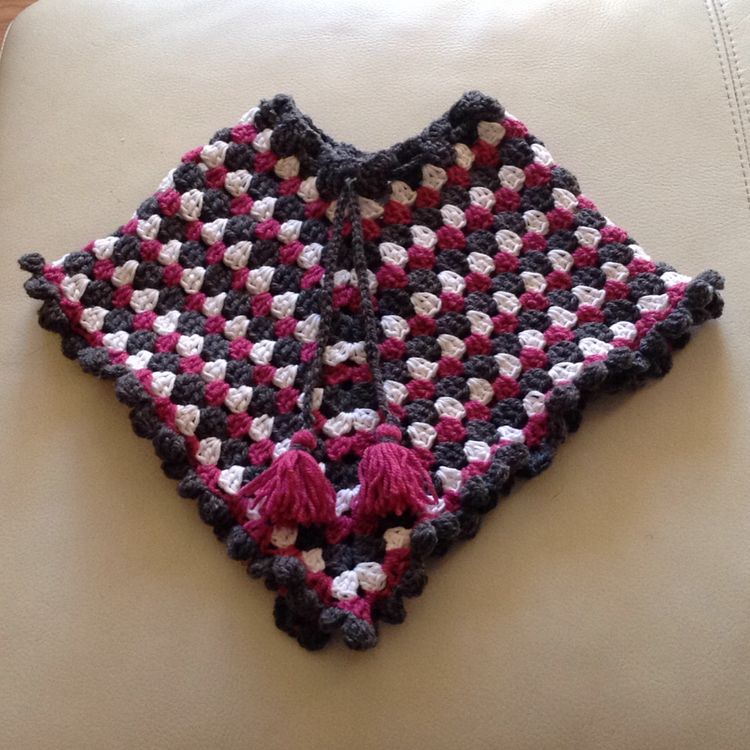 Poncho Granny Pattern – Choice of Colors
In this post left with great affection for everyone, it will be a crochet poncho, first see if you are going to play as a child or adult, to buy and separate the necessary materials. See also the colors, if it is for man or woman the poncho, and choose the colors you prefer or the colors that most please the person, a tip for the people who sell their works, is to choose vibrant colors that people like the most , so as to have pieces for every type of taste, a tip is also that in winter the darker colors are used. 
You can also make a whole piece of one color or also use more colors and make beautiful mixed or row combinations, tone on tone, as you prefer and find it more beautiful to do, after all each has a preferred way of doing it. If it is for children it is recommended colors referring to sex and more cheerful, colored colors and for babies lighter colors, lighter giving that air of comfort, cheerful and delicate. 
Wool yarn 150-200g DK (can use yarn stock)

Crochet Needle 4mm

Sewing needle that you prefer
Points 
– Chain Stitch (CH) 
– Double Crochet (DC) 
– Crochet Needle (TR) 
– Stitch Slip (SS) 
This pattern is very useful for wrapping up on cold days, and also wrapping up children. The interesting thing about this work is that we can make the same pattern for adults or children, just changing the number of rows of crochet stitches you make. This is fantastic because we can make pieces combining mother and daughter, I find it very beautiful and cute. 
See too – Mystical Lanterns Crochet Blanket
You can do as you prefer in the details as well, for example, put ribbons on the bottom as barred, put a flower made of crochet or some ornament that you know how to make. You can put what you think is beautiful, the cool thing is to do something very original in your own way.
I remember my mom when I was a kid who always wanted to put designs on my clothes to look different. Well let's go to the pattern, below I made available the website where I found the free step by step, explaining in writing how to do it, enjoy it and good work. Follow our facebook page and see what's new on the site Fanpage  and group.
Pattern Written – Poncho Granny Pattern